Matt Harvey Has Torn UCL; TJ Surgery Possible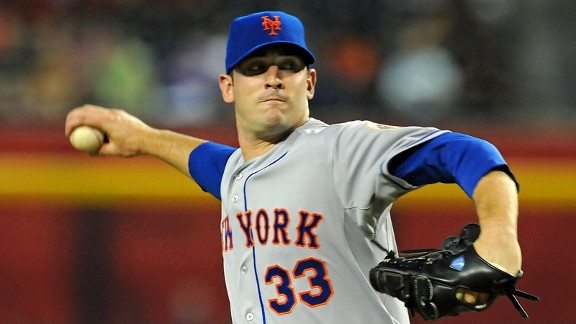 It's every Met fan's worst nightmare.
Matt Harvey has a partially-torn Ulnar Collateral Ligament in his throwing elbow, and will be placed on the Disabled List. He will almost certainly miss the rest of the season. But wait — it gets worse. The 24 year-old could face Tommy John surgery if rehab is unsuccessful. For now, Harvey will sit and attempt to strengthen the area around the ligament in order to avoid the surgery. The Mets will decide whether Harvey needs surgery within a few weeks.
With a few exceptions, rehabbing a UCL tear hasn't worked for many major league pitchers. All it does is delay the inevitable. If Harvey were to rehab the injury and come back next season, he is essentially a ticking time bomb, waiting for the ligament to tear again. With Tommy John surgery, Harvey would get an entirely new ligament, one that hasn't been worn down by years of pitching. Recently, we've seen pitchers like Stephen Strasburg return completely healthy, throwing as hard as they had before.
This injury makes it that much more unlikely that the Mets are competitive next year, but the health of someone of Harvey's stature should come first. It was unlikely that the Mets were going to compete next year, and 2015 was the target year. Having the surgery within the next few months would put Harvey on track to not only be healthy in 2015, but also to get a few months of pitching in during August or September next year, possibly even earlier than that.
The Mets have lost three fifths of net year's rotation to injury, two of them to injuries that could put them out for the majority of next season. Jenrry Mejia was shut down to have bone chips removed from his elbow. Jeremy Hefner went down needing TJ surgery. Now, the Mets face their biggest blow yet with Harvey missing possibly up to a year. That being said, there is still tremendous depth in this organization. Rafael Montero and Noah Syndergaard — two potential top-of-the-rotation starters — should make their debuts either this year or next. The Mets still have Dillon Gee, Jonathon Niese, and of course, Zack Wheeler. The rotation is still nothing to scoff at and if healthy, the rotation is still really good. However, as talented as the remaining pitchers on the Mets are, there is no replacing Matt Harvey.