Midseason Stock Watch On The Mets' Top Prospects
We're at just about the halfway point in the major league season, and more than halfway through the minor league season, so I figured it would be a good time to revisit my pre-season top 20 prospect rankings to see who is exceeding expectations, and who isn't. Let's just get right to it.
20. Jack Leathersich- Stock Up
We were waiting to see when hitters were going to catch up to Leathersich's rather deceptive motion. So far, they haven't been able to, and Leathersich has continued to strike hitters at an amazing rate. The hard-throwing lefty put up a 1.53 ERA in 29.1 innings with Binghamton, striking out 55 batters and earning a recent promotion to Las Vegas, where he has struggled a bit, but has struck out 14 batters in 7.2 innings. Leathersich still walks close to five batters per nine innings, but with a limited bullpen role (although as a full-inning reliever, not a lefty specialist) and with the way he dominates, it hasn't become a major problem yet.
19. Cory Vaughn- Stock Up
The question mark with Vaughn has always been his hit tool. His athleticism and power were never the question, but after posting a .243 batting average his second time around in St. Lucie, it wasn't a certainty that he would even make it to the majors. 45 games in with Double-A Binghamton, Vaughn has proven that his hit tool is there, and possibly MLB-worthy. The 24 year-old has a .288/.370/.447 slash line with six homers, seven doubles, a triple, and eight stolen bases. He has missed time with an elbow injury bt should return this season.
18. Phillip Evans- Stock Down
The Mets gave second-round money to get 2011 15th rounder Phillip Evans to sign, and they were getting a second-round talent. Evans played nine games in 2011, but got his first real taste of professional baseball last year with Brooklyn, where the shortstop hit .252/.328/.337 with five homers in 329 Plate Appearances, but impressed scouts with flashes of MLB talent. However, Evans has struggled this season, albeit in the toughest park in baseball to hit, but his home and road splits are telling of just how badly Evans is struggling. Despite the tough hitting environment, Evans is hitting better in Savannah than away. The home numbers are likely just a matter of circumstance and luck, but to see him struggle even in better environments is concerning. He's only 20 and he was rated a second-round talent for a reason, but the Mets will be keeping a close eye on Evans the rest of the season in hopes that he can have a rebound in the second half.
17. Matt den Dekker- Neutral
Den Dekker had a very choppy season between Binghamton and Buffalo last year, earning an All-Star appearance in Binghamton and then struggling to keep his average above .220 (compared to .340 in Double-A) once he got to Buffalo. Den Dekker broke his wrist and hasn't played a game this season, but is returning this week to Las Vegas to make his debut.
16. Gabriel Ynoa- Stock Up
A member of the dominate 2012 Brooklyn pitching staff, Ynoa has fantastic command of his pitches, and has continued o thrive this season with Savannah. Ynoa has a 2.68 ERA in 80.2 innings over 13 starts while putting up an extraordinary 1.0 walks per nine rating. You have to wonder how much the pitcher-friendly environments of Broooklyn and Savannah have helped Ynoa, but his road numbers are still pretty good and his fantastic control translates to any ballpark.
15. Wilfredo Tovar- Stock Down
Tovar has regressed back to his weak-hitting ways, putting up career-low numbers at the plate. Tovar, 21, is hitting .238 and a very empty .238 at that. His .572 OPS is bad even for a weak-hitting shortstop. Tovar was at one point compared to Ruben Tejada for his skills with the glove (Tovar is a better defender, however), and shaky skills at the dish. However, now it looks like he's on track to be a defensive replacement, and probably not much else. He will have to rebound in the second half to have a chance at playing in Las Vegas next season.
14. Aderlin Rodriguez- Stock Down
Rodriguez amazed with his raw power last year, hitting 24 homers last year between Low-A and Advanced-A ball, including 16 with Savannah. It was a promising sign to see his power translate even to Savannah, where home runs go to die. Rodriguez has hit for power this season, but not in the same way he was, despite being in a better hitting environment. He is hitting .260 on the year, but has a very unimpressive .295 On-Base Percentage. He has nine homers in 62 games for St. Lucie this year to go along with 14 doubles.
13. Kevin Plawecki- Stock Up
Plawecki is arguably the biggest surprise on this list, after hitting only .250 in Brooklyn last year. It appeared Plawecki would hit for a low average while hitting for power, but this season he has both raised his batting average and kept his power numbers up. After hitting .314 with a .390 OBP in Savannah, Plawecki recently earned a promotion to St. Lucie, where he is adjusting well through eight games. Plawecki will end up much higher on this list if he continues to hit the way he has.
12. Gavin Cecchini- Neutral
The season just got going for the Brooklyn Cyclones, and Cecchini has only played 11 games. Thus far, it's been decent for Cecchini, who has a .295/.333/.364 slash line in 50 trips to the plate.
11. Jacob deGrom- Neutral
deGrom has rocketed through  the system, going from Advanced-A all the way to Triple-A in a matter of half a season due to injuries, but has adjusted well considering the challenge. Through the three leagues, deGrom has a 3.77 ERA in 15 starts, including a 0.96 mark through three starts with Las Vegas. He is probablyl still destined for the bullpen.
10. Luis Mateo- Stock Down
Mateo had just gotten his season started when he started having elbow troubles, eventually leading to Tommy John surgery. The 23 year-old should be able to pitch next season.
9. Rafael Montero- Stock Up
Montero hasn't struggled at any level of the minors, it seems, and he continued to dominate this year. Montero, who signed in January 2011, has moved up unusually fast, and this year, already moved his way up to Triple-A, now within striking distance of the MLB club. Montero posted a 2.91 ERA in Binghamton, striking out 9.6 batters per nine innings while walking only 1.7. He has struggled to adjust to the hitter-friendly PAcific Coast League, but it has only been three starts.
8. Domingo Tapia- Stock Down
Tapia's numbers are very similar to what they were in 2012 with one very important exception: control. Tapia's walk numbers have ballooned to almost five walks per nine. It's been a small sample of only 58 innings, but Tapia still must keep his walks down to have a shot at a promotion next season.
7. Jeurys Familia- Stock Down
Familia pitched only 10.1 innings out of the bullpen for the big league club this season before injuries put him on the sideline for weeks. Earlier this month, he found out he needed surgery to remove bone spurs in his pitching elbow after being placed on the DL May 12. Familia will most likely miss the rest of the season with the injury. Through eight games, he struck out seven, walked seven, and gave up four runs on ten hits in 10.1 innings in relief.
6. Brandon Nimmo- Stock Down
After having a good season in a very tough environment last season, Nimmo has been very streaky this year for Savannah. At one point hitting well over .300, Nimmo was one of the hottest players in the farm system, but has recently gone through a slump that brought his batting average below .280. He has been hurt by the tough hitting environment (which is especially bad for lefties) in Savannah, but he hasn't been hitting for much power on the road either, which is a bit concerning. He is still a very promising prospect and very young, but will look to rebound in the second half to earn the promotion to St. Lucie next year.
5. Wilmer Flores- Stock Up
Flores has had a very inconsistent minor league career so far, but he has always had one very important fact on his side: he was always very young for the league. So even through those seasons in which he struggled to keep his On-Base Percentage above .300, there was hope that Flores could still be successful. This year he is proving the hype was justified. Flores is having a solid season for Triple-A Las Vegas with a .308/.345/.508 slash line. He is hitting in one of the easiest hitting environments in baseball, but still has a tolerable .758 OPS on the road, although much of that occurs in hitter-friendly environments as well.
4. Michael Fulmer- Neutral
Fulmer suffered a torn meniscus in Spring Training, which set him back a few months. He is just beginning to pitch in rehab games, but should return to full-time pitching soon. The injury isn't major and at 20 years old, Fulmer is young enough that is won't cause any major setbacks in his development, especially considering what type of injury it was.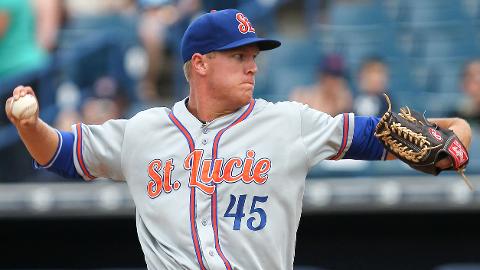 3. Noah Syndergaard- Stock Up
As of right now with Zack Wheeler up in the majors, Noah Syndergaard is the top Mets prospect. Much like Rafael Montero, Syndergaard has dominated at every single level he's pitched, and is having another fantastic season this year. Also like Montero, Syndergaard posesses above average command, walking around 2.5 batters per nine innings while striking out almost ten. The enormous 6'6″ right-hander could be up with the Mets by the middle of next year if he keeps pitching this well.
2. Travis d'Arnaud- Neutral
Much like Fulmer, d'Arnaud has been out for a while, but his injury isn't one that could come back to haunt him in later years. d'Arnaud broke his foot in April playing with the 51s, but will return to baseball soon and could even make his Mets debut in September if things go well in his rehab. d'Arnaud played 12 games this season with Las Vegas, hitting .250/.429/.472 with a home run and five doubles over 49 Plate Appearances.
1. Zack Wheeler- Neutral
Wheeler made his highly-publicized debut in Atlanta a few weeks ago, when he pitched six shutout innings. Since then, Wheeler has struggled with his command, and has gotten beat up pretty badly. His "stuff" is still there and as good as advertised, but his command is what has always been missing, and what is still missing. If he can improve on that, his ceiling is as high as any prospect in baseball.