Mets Demote Six More, Making Opening Day Roster Clearer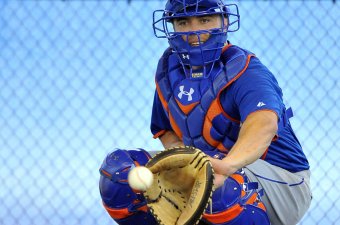 The Mets sent down six more players today, including top catching prospect Travis d'Arnaud. D'arnaud, 24, was having an excellent spring, hitting .355/.432/.484 with four doubles in 15 games played. He was expected to be optioned to Triple-A sometime before Opening Day, but his impressive performance this month certainly made the move a tough one for Sandy Alderson.
Among the others sent down was Aaron Laffey, who was there in case another Met starter got hurt. Shaun Marcum, the primary injury candidate, seems on track however, so sending Laffey down makes sense.
Brian Bixler, Andrew Brown, and Jamie Hoffmann were re-assigned to minor league camp while Brandon Hicks was outrighted off the 40-man roster. All four of these players only had outside shots at winning a major league job. Hicks' demotion all but guarantees that Omar Quintanilla will once again suit up for the Mets as a middle infield utility player.
With 36 players on the roster, the Mets will have to cut 11 more players before Opening Day on April 1.