LaTroy Hawkins Makes Team, Pedro Feliciano Does Not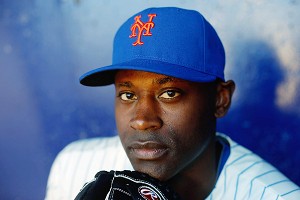 Due to a deadline in his contract, the Mets had to inform right-hander LaTroy Hawkins of whether or not he made the team today. A source told ESPNNewYork.com's Adam Rubin that Hawkins has been told he has made the major league bullpen. He will make a $1 million base salary for making the team, plus incentives.
Hawkins, 40, tossed 42 innings last season for the Angels, posting a 3.64 ERA and 1.38 WHIP to go along with 23 strikeouts. He signed with the Mets this offseason on a minor league deal.
Hawkins signed a very similar contract to Pedro Feliciano, who also had to be told whether he has made the team by today. The answer was no. "I'm going to think about it and see what I decide. Hopefully somebody picks me up. We'll see what happens," Feliciano told reporters. He now has the option to either go to Triple-A, in which case the Mets will be obligated to pay him $100,000, or he could opt out and attempt to sign with another team.
According to Adam Rubin, it wasn't about performance for Feliciano, it was purely about arm strength:
"We've reached the stage where we just thought we'd like to see him build up some shoulder strength," Collins said. "We're not saying velocity — just back-to-back stuff. One of the things we saw was the second day we brought him back, his stuff wasn't as crisp as the first. He's the kind of guy that we're going to need to do that. If he's going to make a difference, which he has in his career, you've got to know you can bring him in back-to-back days and he's still going to be sharp.
Feliciano, 36, did not pitch either of the last two seasons due to constant injury. Before that, however, he was a workhorse in the Met bullpen, pitching in 266 games from 2008 to 2010, leading the league every year. Unless he has the arm strength to take that kind of workload, or something close to it, then he isn't very useful to the Mets.
The Mets learned a lesson the hard way last year when they carried at times, only one lefty in the bullpen. It seems unlikely that Terry Collins and Sandy Alderson will make that mistake again, so this is probably positive news for Robert Carson, who went from having only an outside shot at making the team to now almost guaranteed to make it, along with Josh Edgin.