Mets Sign Marlon Byrd To Minor League Deal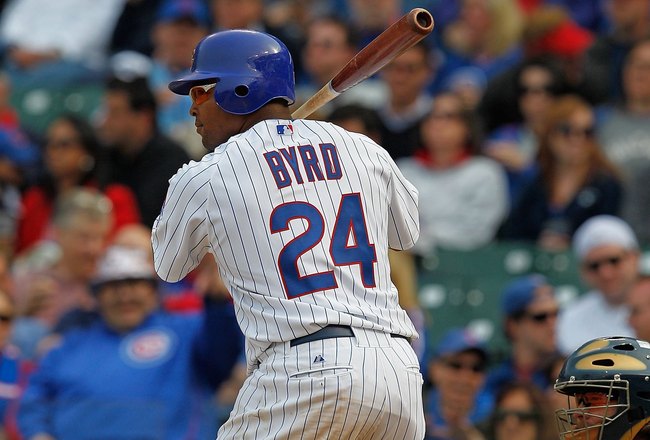 The Mets announced via Twitter today that they have signed journeyman outfielder Marlon Byrd to a minor league contract, with an invitation to big league camp.
Byrd, 35, is a right-handed hitting outfielder who has played a total of 11 seasons in the majors. He played 13 games with the Cubs last season before being traded to the Red Sox last April. In 47 games between the two teams, Byrd hit .210 with one home run and a .488 OPS. His season was cut short in late June, when he was suspended 50 games by Major League Baseball after testing positive for Tamoxifen, which is used to quell certain side effects of steroids.
The signing of Byrd doesn't solve the outfield problem by any means. It just adds another opportunity for the Mets to catch lightening in a bottle. Byrd, although most of his time has been spent in center field, can play all three outfield positions, logging over 250 games between left and right. He is also not too far removed from some of his better years, including 2009 when he hit 20 home runs while batting .283.
Byrd has shown a few tendencies over his career that are important to take note of. He doesn't have much speed, stealing only 49 career bases, most of which came early in his career. The second is his walk rate, which, although it has fluctuated over his career, tends to be pretty low. He has a career walk rate of just 6.5%, with a slightly below-average strikeout rate of 17.1%.
I wouldn't expect much from Byrd. With the other outfielders on the roster right now, if Byrd plays in spring training like he did last season, he's not going to make the team. But another signing means another chance to maybe find another Scott Hairston. On a minor league deal, it can't really hurt the team.