How Good Is Daniel Murphy?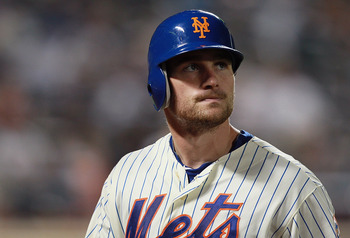 MLB Network made a big splash last night with this year's edition of "Top 10 Right Now: Second Basemen." A panel of editorial staff, on-air talent, and Bill James compiled their lists together to come up with the top ten second basemen in baseball. The list they came up with consisted of some notable names including Robinson Cano and Dustin Pedroia, with Daniel Murphy coming at number ten. This is very surprising, especially considering how bad Murphy is with the glove. Does he really belong in the top ten?
Let's start with hitting. That is clearly Murphy's strong point. Of the 20 second basemen over the past two seasons with 1,000 or more plate appearances, Murphy ranks ninth in OPS:
In other stats like walks per strikeout (10th), slugging (10th), and on-base percentage (6th), he is hovering around the top ten. His betting average (2nd) is high, but he lacks power (ranks 16th in ISO). That probably keeps him out of the top eight or nine in terms of hitting second basemen.
Looking at fielding, we know Murphy is worse in that area, the only question is how much worse. Muphy has played just over 1,200 innings at second base over the past two years, and has just a -7.9 Ultimate Zone Rating per 150 games over that span. Compare that to second basemen over the past two seasons (min. 1,500 innings) and Murphy looks terrible:
So in terms of hitting second basemen, Murphy is likely near the bottom of the top ten. However, his fielding is so dreadful that it brings him down in the rankings, probably somewhere from 13th to 16th. fWAR tells us that, too, with Murphy ranked 14th in that category, with a 5.0 mark:
Is Murphy a top ten second baseman right now? No. However, having some stability at the position in the coming months will certainly help him. He is entrenched as the starter right now, and will be able to focus more on improving — both at the plate and in the field — than he will having to worry about winning the starting job. We saw a sizeable improvement in his fielding last year, but he needs to make a much bigger improvement this season to be considered one of the top players at his position.