A Look At The Mets' Biggest Needs
The trade deadline is approaching fast. We are already a week into July and with the All-Star break beginning next week, the wheeling and dealing is about to heat up around baseball.
The Mets are certainly a team with flaws, with a bad bullpen being one of a few holes that Sandy Alderson must address. We take a look.
The Bullpen
 This one is the most obvious. The Mets have, far and away, the worst bullpen in Major League Baseball. (See below. Note: Stats do not include today's games)
| | | |
| --- | --- | --- |
| Rk | ERA | ERA |
| 26 | Astros | 4.59 |
| 27 | Phillies | 4.63 |
| 28 | Marlins | 4.70 |
| 29 | Brewers | 4.75 |
| 30 | Mets | 5.11 |
I really think that almost the entire bullpen needs to be scrapped. What's worth keeping? Bobby Parnell, Frank Francisco and Tim Byrdak. That leaves four or five more spots to fill. You could also argue for Ramon Ramirez, but not much more than that.
The Mets need to make a big investment in the bullpen in order for this team to make a playoff run. If they can acquire Houston Street, Grant Balfour, Brian Fuentes and another solid middle reliever, it would immediately transform their bullpen from one of the worst in baseball to one of the top ten. Going out and getting three or four relievers will be very, very tough, especially when you consider the high demand for them around this time of year. Hopefully Sandy Alderson can pull it off.
Backup Catcher
Mike Nickeas isn't going to cut it anymore. As I wrote a few weeks ago, Nickeas is one of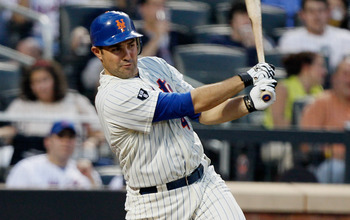 the worst hitters in baseball.
I can see a general manager living with a backup second baseman who can't hit, but catcher is a position in which the backups get a ton of at-bats, so defensive value and being able to call a good game from behind the plate isn't worth it anymore.
A Solution To The Outfield Situation (Plus a RH Bat?)
 When Jason Bay comes back after the All-Star break, the outfield is going to be chaos. Bay, Scott Hairston, Andres Torres, Lucas Duda, and Kirk Nieuwenhuis will all be splitting time in the three spots. It can't stay that way.
Sandy Alderson needs to get rid of one, possibly two of those guys. I would be in favor of the Mets dumping Andres Torres and Jason Bay. Neither of them have contributed anything. The thing that's been keeping Torres on the roster has been his speed, but Terry Collins seems to have already found a leadoff hitter in Kirk Nieuwenhuis.
Releasing or trading Bay and Torres creates another problem, however. The Mets, who are already heavy on the lefties, would need another right-handed bat. Carlos Quentin and Chase Headley are two players that would fit into the Mets lineup well, adding a much-needed power threat.
Something needs to be done to solve the problems in the outfield. Carrying an injury-plagued Jason Bay along with a struggling Andres Torres will only hold this team down. Terry Collins desperately needs this dead weight cut from his roster. It's only making his job more difficult.
What areas do you think Sandy Alderson need to address? Let your thoughts be heard in the comments section!