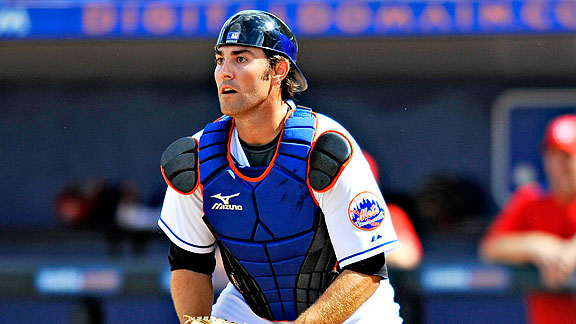 Mike Nickeas may be the weakest-hitting catcher I have ever seen. In 32 games this season, he is hitting a meager .183. His career average is even worse- .177. The Mets need to get rid of him.
I used to understand why Nickeas is on the roster in the first place- he's cheap and he's great with pitchers. There is no doubting either one of those facts. He calls a grea game behind the plate and he costs the Mets much less than Ronny Paulino or Rod Barajas would. The benefit of having a catcher that can call the right pitches at the right time can make or break a pitching staff.
However, the Mets are making a huge sacrifice with his offense at the plate, on that isn't worth making anymore. Nickeas is one of the worst hitters in baseball. Here is a look at the bottom five catchers in baseball in OPS (minimum 75 Plate Appearances)
| | | | |
| --- | --- | --- | --- |
| Rank | Player | Team | OPS |
| 47 | | MIA | .536 |
| 48 | Mike Nickeas | NYM | .512 |
| 49 | | OAK | .509 |
| 50 | | SD | .493 |
| 51 | | LAA | .451 |
The numbers for Nickeas are just astounding. His career slugging percentage is a mere .256. Lucas Duda has a higher batting average than that!
The value is just not there anymore. You can get someone twice as productive at the plate for far less than $1 million. Even a guy like Rob Johnson, who the Mets have in Triple-A right now would be a decent replacement. You could plug in practically anyone right now and get better production out of them than you do with Nickeas.
I understand the value of having catchers that can "call a good game." In Nickeas' case however, the team really has to ask themselves- Is it worth it?