Bonus: Top 12 prospects for 2012: #13-20
Well I've finished the top 12 prospects, but I've decided to extend the list a little so here are the official UpAlongFirst.com top #13-20 prospects in the Met organization.
13.Cory Mazzoni-  P
THROWS/BATS: R/R
Mazzoni was named one of the biggest breakout prospects of 2011 by Kevin Goldstein of Baseball Prospectus. He appeared in 13 pro innings in 2011, but it was his college career that go scouts talking. At North Carolina State, despite his small frame, managed to eat innings better than any other pitcher on the college staff. Coming out of college, nobody really knows exactly how your skill set translates to the pros, and this is particularly true with Mazzoni, so I'm just going to write what I know about him for sure and nothing more.
Mazzoni possesses a fastball that is as straight as an arrow, but can touch 97 miles per hour on occasion. He is also supposed to be very aggressive when going after hitters, throwing strike after strike. How this will translate remains to be seen. He may be rocked in the minors, but at least we know from this that Mazzoni has very good command, arguably his greatest asset. We will get more information on Mazzoni in 2012, and we will be better able to gauge his talent level. For now, we look at the potential, and right now, it's looking really good for Mazzoni.
14. Jordany Valdespin-  INF
THROWS/BATS: R/L
Valdespin, a n athletic middle infielder, has as much raw athleticism as any of the Mets prospects on this list. Valdespin has so much raw ability. However, there are two major problems with Valdespin. One is as I mentioned, the fact that he is a raw, unrefined talent. Even  when you look higher on this list at a player like Jeurys, you can see that this refinement is imperative in a player's success. At some point in their careers, every major leaguer had to make strides past that "undeveloped" state that they have been in all of their lives and move into the category of Major League Ballplayer. That has not happened yet with Valdespin, or many of these prospects for that matter.
The second major problem with Valdespin is his attitude. Valdespin has been suspended multiple times for not hustling. A baseball player is a professional and he needs to act like one. Valdespin hasn't been able to mature enough yet to bring his game together and be ready for the majors.
You cannot look past this guy's natural talent, however. He broke out last year in Buffalo and Binghamton, really drawing major attention to himself for the first time in his career. Valdespin showed power with his 17 home runs in Binghamton and Buffalo, as well as speed with his 34 stolen bases. He wasn't too impressive in the field, making 35 total errors at second and shortstop combined, but you can't ignore his raw talent at the plate. Hopefully, Valdespin will continue the season he had last year and contribute to the MEts when he reaches the big leagues for good in 2013.
15. Collin McHugh-  P
THROWS/BATS: R/R
McHugh has pitched solidly in every professional season since being taken in the 18th round of the 2007 draft. After an 8-2 2009 with Brooklyn, McHugh got his first taste of long-season ball in 2010 and didn't seem too phased. He pitched to a 3.33 ERA in the South Atlantic League. After a short stint in St. Lucie in 2010, McHugh was called up to Double-A Binghamton. In Binghamton, he had the best stretch of his career in the minors, going an astounding 8-2 with a 2.89 ERA and a 1.179 WHIP.
Collin boasts a fastball that tops out around 93, as well as a slider and cutter around 84-85. McHugh also has a slow,looping, curve ball around 71-74 MPH. McHugh also has a changeup, but has been moving away from it lately.
It's great to see McHugh making strides. He added a few miles per hour to his fastball last season, and hopefully can develop his changeup this season. I am always a big fan of pitchers with changeups. It's a big weapon. McHugh isn't too far off from the majors and could earn a start or two this summer.
Check out my interview with Collin here.
McHugh keeps a blog that you can read here. He's got some very interesting stories.
16. Juan Lagares-  OF
THROWS/BATS: R/R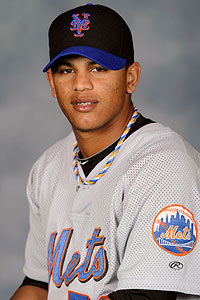 Lagares has been in the spotlight since he was said to be better than Jose Reyes was at age 16 by the scout that signed Jose. However, Lagares made even more headlines in 2011 with what he did on the field. He tore up FSL pitching, hitting .338 in 82 games before finally earning the call to Binghamton. When he got to Binghamton, Lagares hit even better, ending with a Double-A batting average of .370. Although some may argue that it was just pure luck, it's pretty hard to go from .279 to .349 just by luck. Plus, Lagares played in the AFL, and hit .302 with two homers and 18 RBI. This was no fluke.
In the field, Lagares is still adjusting. After making 40– count 'em– 40 errors in the South Atlantic League in just 82 games (yep), the Mets decided to move him to the outfield. He has played some at each of the three positions in the outfield, but is better at the corner spots. Eventually, it may be better for him to utilize his speed and move him to center field in the future because his skill set fits that of a center fielder. Lagares will look to continue transitioning in the field, as well as continue raking at the plate, before making a debut in late 2013 or early 2014.
17. Juan Urbina-  P
THROWS/BATS: L/L
Urbina is a pitching coaches's dream. He is young, mature, and a lefty with a whole lot of talent. Urbina, the son of former major leaguer Ugueth Urbina, signed with a bonus of a cool $1 million in 2009. Since then, he hasn't been spectacular down in Rookie ball, but the sample size has been very small. He has shown some glimpses of what he could become in the future, but those have been few and far between. We will really have to wait and see with Urbina. It's so early.
18. Phillip Evans-  2B, SS
THROWS/BATS: R/R
Evans was a 15th round pick out of La Costa Canyon (Ca.) High School in 2011 and signed for a massive bonus of $600,000. What we know for sure about Evans is his toughness. He plays a nitty-gritty style of baseball–fighting for every ground ball in the field as well as every base hit when at the plate. Here's what Michael Diaz of MetsMinorLeagueBlog.com had to say about Evans after watching him play in the Aflac All–American High School Baseball Classic:
Smallish frame, but there is room to add bulk.
Very athletic defensively with smooth clean actions; arm is average for a ML SS; may need to move to 2nd base down the road due to lack of arm strength.
Good hands with very good feet. A natural middle infielder.
Advanced approach at the plate. Very quiet and disciplined hitter. Did not chase out of the zone (walked twice)
Short compact swing. Uses the whole field well. Line drive hitter.
Average raw power at best.
An average runner (4.3 sec. home to first-base)
Instinctive ball player. Plays the game hard and with a confident but not cocky attitude. Tough as nails.
 -Michael Diaz
Doesn't sound like a bad ballplayer at all to me.
19. Akeel Morris-  P
THROWS/BATS: R/R
Morris, a 10th round pick in 2010, had a very unique high school baseball experience. Morris grew up in the Virgin Islands and played
high school ball there. The Mets took heat for taking such a risk in drafting Morris. Many speculate that the competition in the Virgin Islands isn't experienced enough and that Morris was not facing  quality hitters. At 19, Morris has already pitched two impressive seasons at the short-season level, racking up 76 innings between Kingsport and the GCL. He has an ERA of 3.32. He struck out a promising 10.7 per nine, but he had a huge walk rate of 6.7.
Morris is a long, long way from the majors. He likely won't even move up to full-season baseball until 2013.
20. Jefry Marte-  INF
THROWS/BATS: R/R
Marte has been slowly brought through the minors and after four seasons, he could finally make his move to Binghamton in 2012. Marte is a third baseman who many were calling the net David Wright after hitting an impressive .325 in the GCL at 17 years of age. He has really developed his plate discipline to the point where pitchers need to go after him instead of him coming to them. He is becoming more patient, not chasing outside breaking balls as much. He is still a work in progress in that department,  but with an emphasis on the progress.
In the field, Marte is an average player. There is no need to muve him unlike some of these other prospects. He has a very strong arm at this point.
Marte will look to continue to make little strides and hopefully, will be called up to Binghamton sometime in 2012.
———————————————————————————————————————————————————–
Thanks for reading my top prospect list. Here is the complete list:
Next spring, we will have an all-new prospects list, hopefully bigger and better. Can't wait. Thank you to those of you who have read all of these. It's been a real pleasure for me creating this list and I hope it's been the same for you reading it.